★ THE 7 TRANSMEDIA FAMILIES
Check out the 7 transmedia families card game
a creativity boost for your transmedia projects
HERE > http://pinterest.com/TransmediaReady/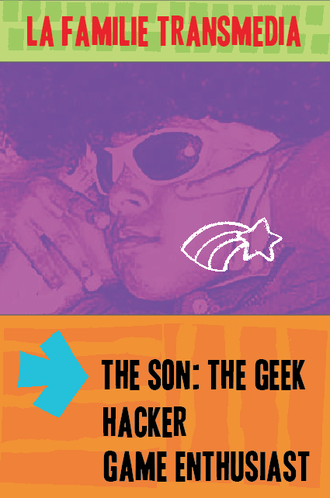 Design by Cynthia Jabar (clic)
" transmedia as an adjective "
The intention of the card game is to raise awareness among transmedia practitioners and newbies about the concepts for transmedia creation.
It uses players' memory and sense of observation and contributes to a develop methodologies and expertise.
It is a prototype, or beta version, as a limited and non commercial edition, and is meant to be tested as an educational tool to help people to get "transmedia ready".
It addresses the creative industry and future transmedia practitioners in the digital environnement.
It is a fun way to think of the principles of transmedia creation and try to experience oneself within a transmedia production. It help to understand the the concept of transmedia, coordonate the preparation of the creative and collaborative work. It is dedicated to everyone, from creative talents to business partners, professionals or students.
Example the STORYWORLD FAMILY :
"The Storyworld family is the universe of an enlarged story based on a synopsis and narrative framework. It encompasses all possible ramifications and constitutes the depth and richness of a transmedia creation".
Introducing the Mother as "the Writer", the Father as "the Character", the Daughter as "the Player", the Son as "the Geek". And much more surprises!
Made and curated by @KHenthusiasm and @TransmediaReady www.transmediaready.com