Where to stop for a 'piss' in Paris (or for a real cool time)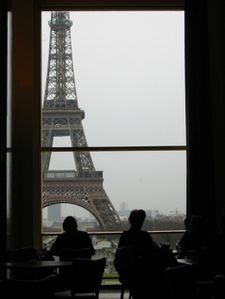 Hotels are places where you can elaborate many tips.
For the expensive price of a cup of coffee I can stay longer and have a much better service. I can use the advantage of very, very comfortable ladies' room. I don't know about the men's room yet.
Don't forget, in cafes (and brasseries) in Paris you cannot stay too long, the waiter will come with his negative face - yes, he does have a negative face most of the time - if you stay too long he will ask you to pay and … set the table free for next round (= leave).

This will not happen in a hotel lobby. So look for luxurious hotel lobbies and enjoy the toilets for free !
(i.e. Hotel Concorde Saint Lazare near the train station, 'chutt', don't tell !)
pix from Trocadero inside restaurant of the Museum