I got to do an About Me page for the creative part of my work so I ended up doing my own like this (adding creative people who are so helpful in my work) :
This is for getting through a period of "Temporary Web Revision" : basically I use English the best I can and reinvent some words. + it does not matter anymore because I am totally Transmedia Ready ! (LOL) We can always say : "Hey, that's part of the ARG of life"... No ?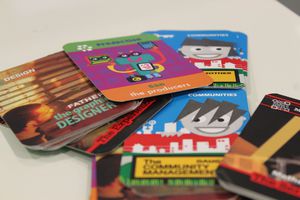 Cynthia Jabar Artistic Design and Transmedia Designer

I have been busy launching the CARD GAME OF THE 7 TRANSMEDIA FAMILIES in Madrid (while the Spanish Revolution was taking place ;-)
I learned as much as I could, while sharing all my insights with others too. You should find out who was there and get transmedia ready too ! ;-)


Transmedia Living Lab with Camon Madrid
and
is starting...