Paris food tips & cafe places
Do good to yourself. Twice. First for your wallet, then for your stomach.
Eat better does not mean that you need to sit down and pay more (see Paris prices…). You can require a sandwich at the bar, the counter, the 'zinc' (in the typical Parisian slang, from the name of the material used for the top of the counter). I usually first ask if they have bread, because sometimes they are out of fresh bread, but most of the time they make the sandwich in front of you with fresh baguette and good quality products. Sometimes basic Parisian cafe places will have great products from the countryside. Don't expect an elaborated sandwich but just a good ham or sausage, a good cheese, they always have a list of the kind of sandwiches they sell fand they are cheaper than anywhere else, even more if you eat the counter, and you also take it out.
By the way, try the small glass of Côte du Rhône at the same time, usually cheap and good, they serve it cold or by the room temperature, and they may have a good house wine for your sandwich and your mind. Enjoy, be free, smart, and save money. And, at the counter, make friends.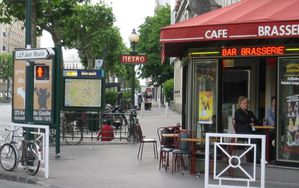 @kh-pix-home