Because I am happy to participate to the 2nd ESPM Forum Era Transmedia in Sao Paulo Brazil, via video since I am currently in Paris, I am sharing some information (slightly edited) I got from the transmedia curator Rodrigo @RodrigoArnaut www.eratransmidia.com. The event is taking place for 2 days in a very friendly way. Main language in Portugese but some presentations will be in English.
September Friday 28th & Saturday 29th - 9:30 am to 17h Brazilian time.
"Friends Speakers Panels - II Forum of Transmedia, we are at 60 people!
ALL are welcome! Below is the updated schedule FINAL. We are approximately 300 names confirmed for the forum, between Staff, Speakers, Guests and Subscribers.
I wish you all a great experience with us for this important event being the area of ​​Transmedia in Brazil! Over the 2 days we share with participants and those who are engaged with the event, will have more chances of rewards! (SURPRISES!)
The Facebook page of the Forum:
https://www.facebook.com/ForumTransmidia
The Event Website: www.forumtransmidia.com
EXPERIENCE: Visit miniExpo, stroll the fires of content, technology and business, have fun, and there will be time to attend and participate in 20 sessions.
60 speakers to exchange ideas, and 300 names confirmed to make new friends! Total Networking!
In the media:
http://www.telaviva.com.br/27/09/2012/espm-recebe-2-edicao-do-forum-transmidia/tl/303198/news.aspx
Article

http://www.eratransmidia.com/index.php/artigo-era-transmidia/
Slideshare
www.slideshare.com/EraTransmidia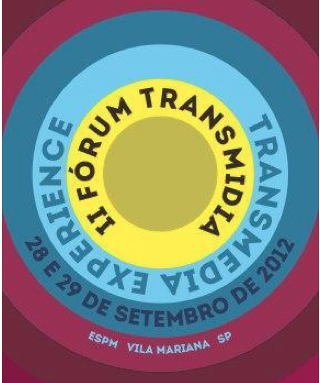 FRIDAY, 28/09:

- 9:30 am Opening Experience (Hiran Castelo Branco / VP ESPM, Gil Giardelli (Gaia / inovadoresESPM), Rodrigo Arnaut (EraTransmidia) and Fernanda Nogueira (Prose / EraTransmidia)
- 10h Phenomena and references in transmedia experiences in the World!
Jeff Gomez (Starlight Runner / USA)
- 10:45 am Large national experience - influencing Narrative (phenomenon "empreguetes", etc.)
Alex Medeiros (TV Globo)
- 11:30 Debates agencies and Content Producers focusing Transmedia - Mod: Rodrigo Arnaut (EraTransmidia) Jeff Gomez (Starlight Runner / USA), Eduardo Sumi (CUBOCC), Gil Giardelli (Gaia Creative / inovadoresESPM), Hugo Janeba (Mixer), Alex Medeiros (TV Globo) and Marcelo Douek (Lukso)
- 12:15 pm "Lunch / Groups studies of innovative ESPM / (Pecha Kucha)
- 13h vc: Karine Halpern (@ TransmediaReady / France)
- 13:15 h Transmedia Arts - Mod: Solange Eiko (@ missling creative)
Gustavo Santiago (Laboratorium / Flammarion), Mauro Rubens da Silva (Smart Book), Djalma Albuquerque (FMU / TVG), Ivam Cabral (Satyros) and Roberto Schmidt (TV Globo)
- 14h The importance of conversation between multiplatform (Vehicles / media) - Mod: Valdecir Becker (Kinematics / Eratransmidia)
Carlyle Avila (PRC), Jefferson Joao dos Santos Padilha (Band), Salustiano Fagundes (HXD), Claudio Melchi (Record/R7), Alex Medeiros (Globe) and Newton Cannito (ARTV)
- 14:45 Coffee-Networking / Arena of Fires (special session)
- 15:15 Cases of leading brands for the audience off (Advertisers) - Mod: Dion Dimas (EraTransmidia) vc: Robert Pratten (TStoryteller / UK), Icaro de Abreu (Schurmann Film Production), Daniel Rimoli (Edelman means) and Stephen Smith (Estrategi.ca)
- 16h online and off - the interaction and convergence between worlds (Agencies) - Mod: Ricardo Godoy (Burti / ITBN) Hugo Rodrigues (Publicis) and Glen Valente (SBT)
- 17h closure with surprise, closed session for invited Umana / EraTransmidia *

SATURDAY, 29/09, 8am to 17:45, and then closing show until 20h.
- 9:30 am How to enrich its content in transmedia
Jeff Gomez (Starlight Runner / USA)
- 10:15 am sharpen the curiosity of the public and best practices for multi-platform transmedia
vc: Nuno Bernardo (BeActive / Portugal) and vc: Robert Pratten (TStoryteller / UK)
- 11am First Transmedia TV series for the U.S. Hispanic market (Ale Varassin / Alchemists)
- 11:30 Brazil vs Transmedia Worlds (experiments / storytelling) (Producers) - Mod: Sergio Lopes (Miscellaneous Items) Kai Schoppen (underdogs), Ricardo Mucci (Umana), Jeff Gomez (Starlight Runner / USA), Alex Medeiros (TV Globo) and Varassin Ale (The Alchemist)
- 12:15 pm Lunch / Groups studies of innovative ESPM / (Pecha Kucha)
- 13:15 h transmedia need user manual? Games, ARGs? - Mod: John Massarolo (UFSCAR / Geminis) Vicente Gosciola (Anhembi Morumbi), Lorena Tárcia (UniBH), Gil Giardelli (Gaia Creative / inovadoresESPM) McHaddo Ale (44 Toons), Andre Ursulino (ibid) and Dimas Dion (EraTransmidia)
- 14h Leveraging its target with transmedia and Metrics (Agencies) - Mod: Leonardo Naressi (DigitalInc/DP6) Sergio Lopes (Miscellaneous Items), Tatiana Tosi (Plugged Research), Fabiano Rodrigues (underdogs), Diego Monteiro (SCUP), Armando Neto (DM9DDB)
- 14:45 Strategies in Transmedia with Rodrigo Arnaut (EraTransmidia) and Rachel spindly (Transmidializar)
- 15:15 Coffee-Networking / Arena of Fires (special session)
- 15:45 h and Methodology Chart Transmedia with Fernando Collaço (EraTransmidia) and Gabriel Ishida (EraTransmidia)
- 16:15 pm Entrepreneurship Tax Incentives and transmedia - Mod: Raquel spindly (Transmidializar / EraTransmidia) Walther Lang (i9image), Eliana Russi (Big Festival), Nei Grando (neigrando.blog.br), Helio Pitanga - Bossapro (Bossa Productions) and Diego Guarita Logullo (BeBuzz)
- 17h Co-creation in multiplatform projects, Strategies and Risks. (Advertisers) - Mod: Leandro Hippolytus (EraTransmidia) Ingrid Zavarezzi (TV Globo), Edson Mackeenzy (YouTube), Viola Thalles Trouva (Legendary, Record/R7), Tatiana Onoe (QG communication) and Walter A. Olivas (MyHeritage)
- 17:45 h closure with surprise and transmedia closing show